Peasant Dress Pattern
Free to Download and Print
Simple pattern in printable Adobe PDF format. It prints onto 8.5 x 11 paper to tape the pieces together.
I had to make up my own because none of the others were quite right. I wanted a smaller, more modest neckline instead of a huge gaping one like all the commercial patterns seem to have nowadays. I wanted it to have plenty of fabric and a long, generous skirt.
For reference, I'm 5'8" and 38-30-43, which may as well be designated "Medium" (but is Large on some charts)
Requires at least 6 yards of 44" fabric for size Medium if you cut the skirt panels in opposite directions (some up the grain and some down). It's nicer to cut the skirt front on a fold so there's no front seam, but that will waste some fabric.
Download the printable pattern in pdf for size Medium (38)
Download the pattern for size XL (bust 42)
I'm getting more comfortable with scaling! This size has not been tested by anyone yet - I would LOVE to hear how it works out for you!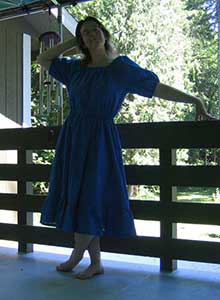 Bobbi's Dress
Bobbi is 5' tall, with a bust and waist of 43", and upper arm of 18". That was my first try at resizing pattern pieces in Illustrator. Bobbi had told me she hand-stitches her clothes. So much time to put into a project, based on my best guess?? But she says the dress came out well, and fitted her just right! And she'll use the pattern again to make more dresses.
"I just found it by accident that day. But I feel that I was supposed to find it. I could not find a dress that was what I wanted and the patterns were all for small people or girls. And I was scared to spend the money for a small pattern and try to make it bigger. I am so glad you could do it. Again thank you. Bobbi"
Here is the pattern in case you are similar to those measurements.