Spiral Skirts
Note: click here for all the free spiral patterns!
The present page is the story of their development :-)
August 2009
I've been wanting a spiral skirt for a long time. A few months ago I dug around the internet for pictures. The Redondo farbenmix skirt is so gorgeous! It's only for little girls though. I found a pattern that looks similar for "24 months to adult", but I cannot pay even $10 for that pattern. The spending's had to CEASE around here.
Don't know if an adult could get away with actually wearing one (but as I get older my sense of what I can't do diminishes) but anyway I definitely want to make one for the girls. Spiral swirlies are my thing.
I found instructions on the internet of how to draft your own, notably this page at PatternReview, and this one at Craftster.

First attempt, drawn on graph paper, based on that first link's instructions. I used a cut piece of graph paper to estimate length, instead of string.
Next step was going to be enlarging my pattern onto big sheets of brown paper. But for some reason my brain put 2 and 2 together. Spiral skirt + Adobe Illustrator = wait a sec, this might work!
I bought Illustrator a couple years ago before the end of the spending. Illustrator is SO COOL!!!!!!!!!!!1
I made some coordinates on my graph paper to help me get the pen lines right, but wait, that is the hard way... all I really had to do was scan the graph then open the scan in Illustrator and trace the lines with the pen tool. That takes only minutes.
The instructions say to use string to make sure both sides are the same length. I don't need to, Illustrator can tell me if the two line segments are the same length or not!
THEN Illustrator can print the pattern tiled onto multiple sheets. Here's how my skirt shape would print on 16 sheets of 8.5 x 11 paper: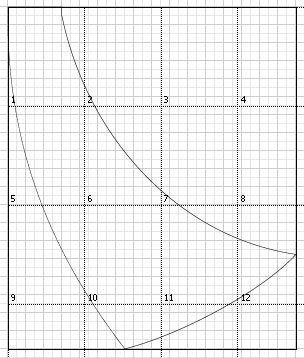 I thought I could number the edges or something to match them up, but it's not necessary. It's a very easy jigsaw puzzle. Anyway I gave the lines different stroke styles which makes it even easier to match them up.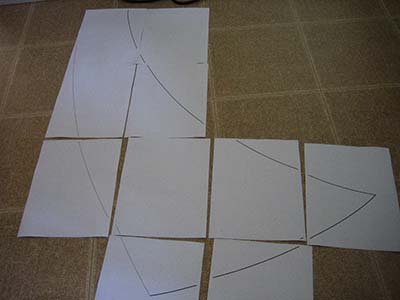 This is SO FUN.  My delight level is right off the chart. Somebody mentioned going to Chuck E Cheese for a birthday party? That doesn't sound fun to me. This is fun.
I had decided on a 6" top for each skirt panel. Allowing 1/2 inch for the seams, that comes out 5" each panel. I want a pull-on elastic waist, so I basically use the hip measurement for the top width of the skirt. Hence:
7 panels x 5" = 35" top tier
8 panels x 5" = 40" top tier
Etc.
I had got as far as taping the pages together to make the pattern when I realized 1) this is going to waste huge amounts of fabric and 2) it's more of a gentle curve like the major brand commercial patterns out right now, which are close but not what I had in mind.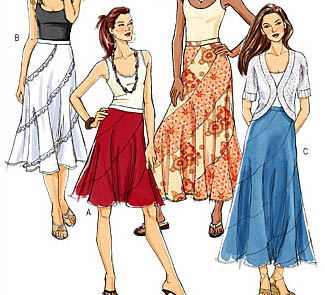 I might as well share that pattern piece I made in case someone else wants it. It hasn't been tested! Maybe it's just what you had in mind... here it is and if you test it, I'd love a picture :-)
I took another look at the second link's way. The lady on craftster provided an image of her pattern piece, but I thought I'd try it more nicely Illustratorily rounded, so I took some circles and made this: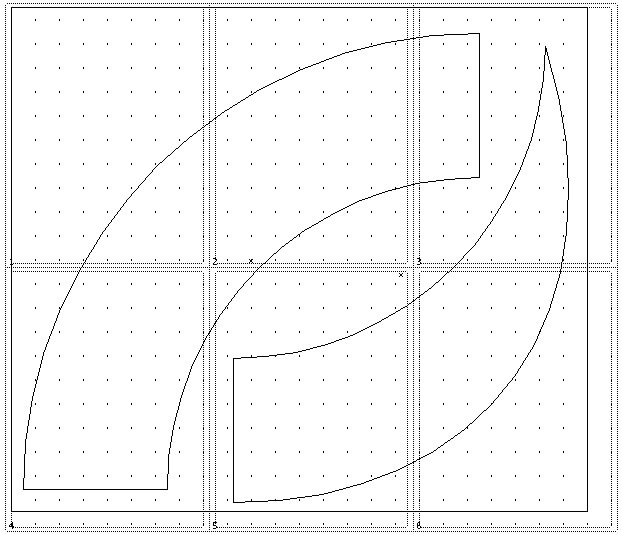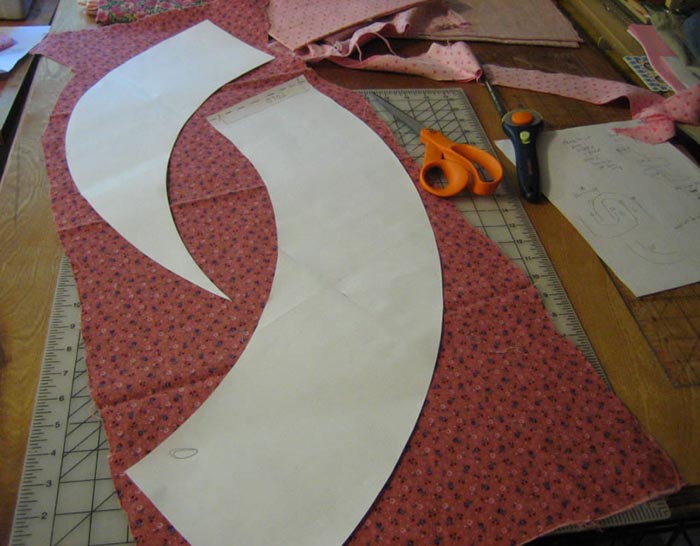 HERE is the printable pattern!
Got as far as a prototype on that one. This is for a girl size, the finished length is 25" long.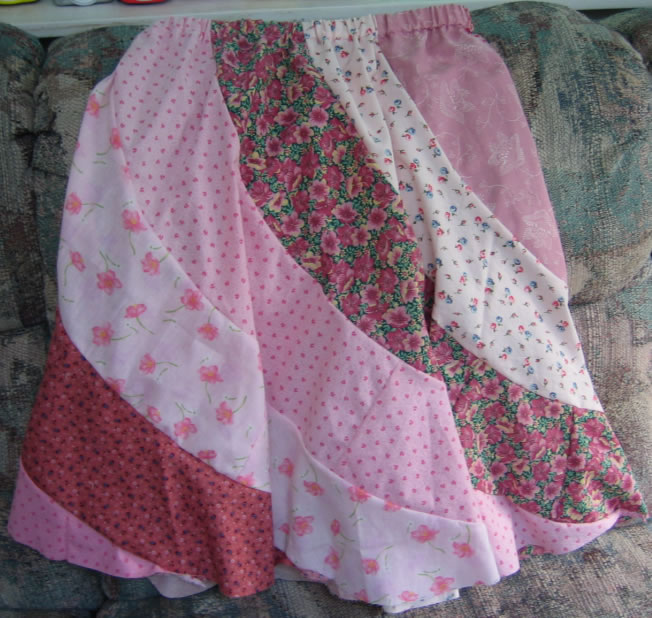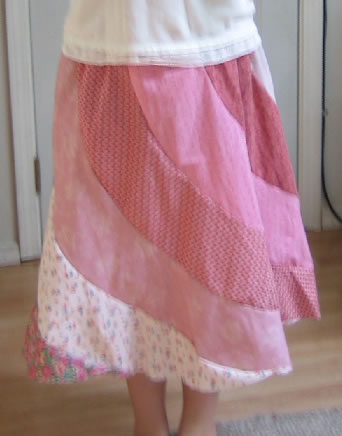 Hem?? Well, I'll use bias tape for it probably... sometime when I'm bored. When I'm not busy creating exciting new masterpieces. For now it goes in the drawer and we go onwards and upwards. I want more ruffles. This is really pretty but I was thinking over-the-top ruffliness a la Redondo.
We need a spiral that's closer to a circle. First attempt at freehanding a tight spiral:
I printed a Barbie size one to test out (pdf pattern for Barbie size is here) and it worked perfectly.
(Plus Photoshopped a little matching modesty)
That's EXACTLY the shape I wanted. Yay!
All ready to make adult version. Pdf pattern for adult size version here which my next step is to test. And that delightful point is where I am right now :-)