Spiral Skirts and Dress
All patterns are Adobe pdf for free download and printing. They print out onto sheets of 8.5 x 11 printer paper which you tape together then cut out. The different pieces have different types of dotted lines to make it easier to match them up. Be sure they print out at 100% size not "scale to fit" the paper.
The skirts can be made any waist size. Just use the number of gores you need to get the waistband size you want. A gore that's 6" across the top will come out about 5.5" (it's easier to use narrow seams when you're matching two contrary curves) so if you want the top of the skirt before elastic to be 44" you'd use eight gores. That's a perfect size for a 30" waist.
(A "gore" is one of the lengthwise strips of a skirt. An eight-gore skirt has eight vertical seams from waist to hem.)
Spiral Skirt 3
One top piece and one point piece are sewn together to make one gore, which are then sewn together. The shapes are 6" wide at the top. Using one top piece and one point per gore, and including an elastic waistband, the skirt comes out 25" long before hemming. This version is less ruffly and more conservative.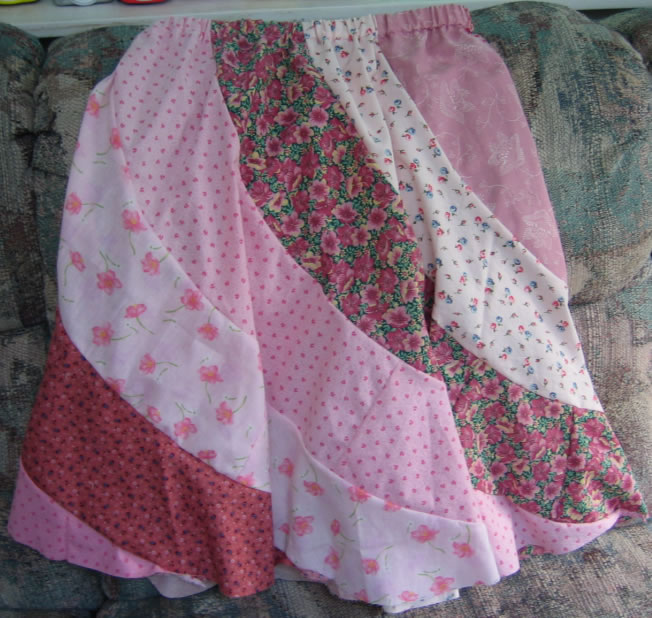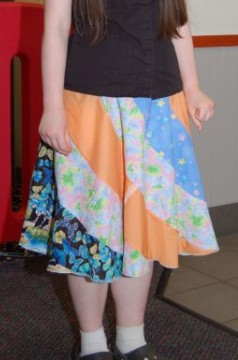 One from the mailbag: Julie says she, "added a 6" strip at the top to make it longer, and lined it. Looks great! I used scraps of rayon, georgette, and one of those big challis scarves that was popular in the 80s. Thanks so very much for posting the patterns; I've been wanting one of these for many years!!"
And THANK YOU to Julie for sending the pictures of her project!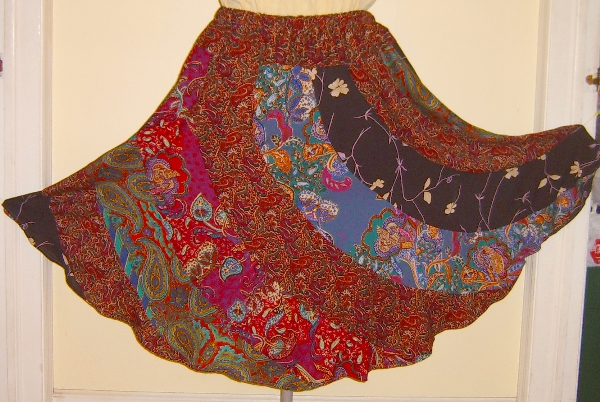 Skirt 4 / Spiral Dress
Skirt shape based on sections of a perfect circle. The sections are 8" wide. In this version there's lots of sections to join before sewing the gores together. For my dress I used four top sections and one point per gore. Adding more sections would have made it longer and I probably will next time, but due to the spiral design, the added length gets absorbed into more ruffliness so another section won't add as many more inches to the length as you might expect.
Download the 8" wide skirt pieces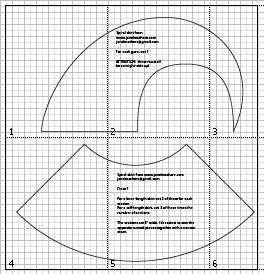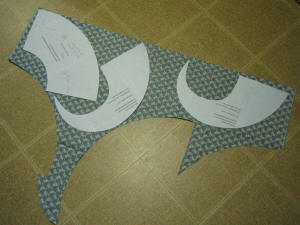 And here's the raglan top part to download. You need to print both files to make the dress. Instructions are in this file and there's pictures on the original pages. The top / dress pattern is size medium only. I'm 38-30-42, you can see how it fits on me. Skirt comes out an uneven 27" long, using three top sections and one point per skirt gore.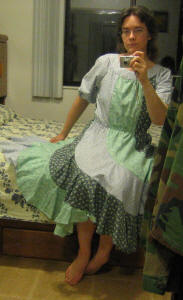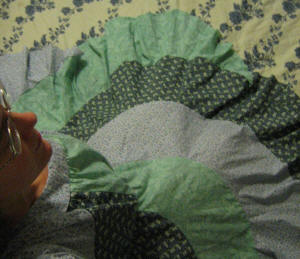 Skirt 4B
Same skirt as above, but with 6" panels instead of 8"
Spiral Skirt 2
The classic spiral look. Comes out quite short and very twirly, only 20-22" long (uneven hemline) including the waistline casing, perfect for little girls. Designed to make best use of fabric, as each gore requires a 25" x 23" piece of fabric.
Little wrinkly there, one of these days I'll learn to contain my enthusiasm long enough to iron things first. The pink skirt was made with a somewhat wobbly hand-drawn pattern piece. The red one was exactly the same, but perfectly circular lines made in AI. The red one's inside-out so you can see the seams!
Spiral Skirt 1
Was really my first try, and came out fine, but wasn't exactly what I was going for. It makes a gently-curved shape similar to the commercial patterns available right now. 
Here's the file for download with 6" tops to the pieces, or Here it is with an 8" top (which works with the bodice above to make into a dress-- the raglan top pieces are each 8" at the waist)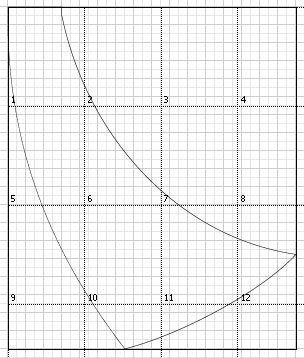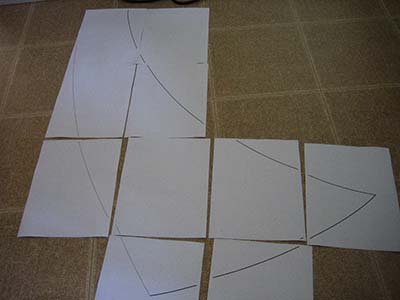 Here's the dress made with it. One's inside out to show the seams, otherwise they'd be quite invisible!
I was absolutely in the Library of Congress for the first picture. It was not my regular sewing room with the bookshelf and the junk behind me like the other two.
(And there's a mirror in front of me there? Or else who's taking the picture? :-D
Fabric requirement for this dress would be 4 and 2/3 yards-- in theory according to Illustrator! (Yep I forgot to measure as I was cutting!)
See how I figure it out? I fit the pieces into a 44" wide box and see how long the box comes out! It says it's 163 inches. For a two-color arrangement it would be 89" for the color that the sleeves are made of, and 73" of the second color.
Combi - Skirt 3 and 4B
I wanted a REALLY ruffly skirt for myself. I tried using five panels of Skirt 4B, with the 6" wide gores. It came out BEAUTIFUL-- but only 24" long!
I pondered this (frowning) for a long time. If only I knew someone's beautiful little daughter who needed a ruffle skirt! If only all those seams would unpick themselves! But I have a secret weapon, a little buddy who will do it for $5.
There's physics at work against us here. Tighter curls means shorter length. So to the top of each gore section I added one panel from skirt 3, which is a much gentler curve. Then sewed it all together again. I'm glad I did!
Spiral Gallery
I folded the Skirt 3 gore into thirds, and removed one of them. From that I cut two pieces for each gore, then added a tip. Here's the interesting way it looks before sewing the final seam.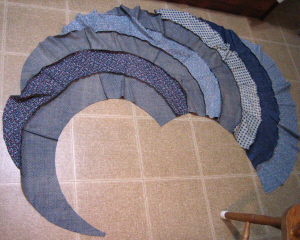 The story version of how these patterns developed starts on this page