Brenda Starr (Tyler Wentworth) Patterns
That's the Brenda Starr by Tonner, which has the same body as Tyler Wentworth. I made a basic dress, strapless gown and peasant blouse patterns and used them to make these clothes for my daughter for Christmas. The white tops are the strapless bodice pattern with lace applied.
Printable Patterns
Basic sloper and strapless bodice
Download a pdf, or click the jpg for a larger version to print out using your graphics program.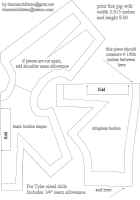 Instructions for Sewing Basic Bodice/ Sloper
Instructions for Sewing Strapless Bodice
Pattern for Peasant Top
Download the Adobe PDF long sleeve version or short sleeve version
or click the jpg to print the long sleeve version
Instructions for Sewing Peasant Blouse
Instructions for Sewing Short Sleeve Peasant
Instructions for crocheting a shawl for Gene, Tyler or Brenda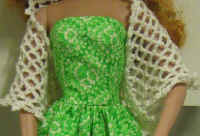 German dirndl pattern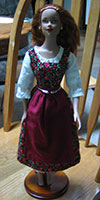 here's a folklore German dirndl that I made for the county fair