Photo Tutorial for Sewing Short Sleeve Peasant Blouse for Tyler Wentworth
If you want any embroidery it's good to do that before cutting out the pieces.
I put some sleeve trim on after cutting but before sewing.
Sleeve edging and gathering can be done in one step if you iron the sleeve hem over and lay a piece of small cord right over the edge. Then zigzag over the cord. Don't pull the cord yet!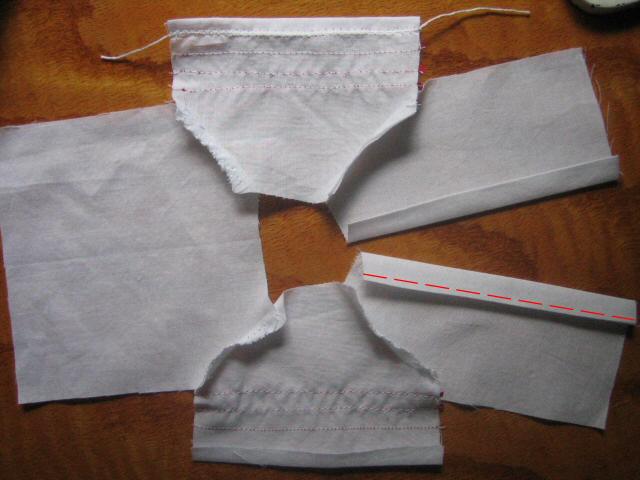 Sew the back and front pieces to the sleeves.
(The sleeve front seam is shorter than the back seam so you can't mix them up.)
Iron the back sections over, first narrowly, then wide enough to sew snaps or velcro on. Stitch per the red line.
Go ahead and stitch the underarm seam and side seams, taking care not to catch the cord as you stitch over it. Then pull the cord to a comfortable size for the doll's arm and tie a little knot.
Fold the neckline over just once, and zigzag near the fold. It's a curved seam so it won't fold perfectly, but that doesn't matter because it's going to be gathered.
For the gathering, get some matching cording and use a big needle to thread it around the neckline, leaving ends to tie in front.
Hem the lower edge and it's done!