Quilt As You Go
A great idea, and I looked around the internet for instructions, but nothing really clicked and gave me a clear sense that I was ready to get started. I had to mull over the idea for a couple days.
When patchwork quilting was first explained to me as a child, I thought it was a really dumb idea! Why cut up perfectly good fabric only to sew it back in a different arrangement? Well, that's what they do now, but that's not how the technique really developed. Pioneer women didn't buy new fabric for quilting, they used up leftovers and scraps and old clothing in a creative way. And that suits me just fine! I hate throwing out anything if it could possibly be cut up and made into something else so when I found out about STRING quilting it was lerve. That's my thing, and I had already started.
Know what I'd really like to do? Making a quilt out of EVERYTHING old and nothing new. So here we are. Lightweight denim for the backing and the knit from outgrown t-shirts for the batting. But sewing pieces of knit together didn't sound like fun, thin knit is too stretchy and unruly to easily assemble into a flat piece. I fell asleep contemplating how that could be done easier, and the three elements came together: string blocks, knits for the batting, and quilt-as-you-go.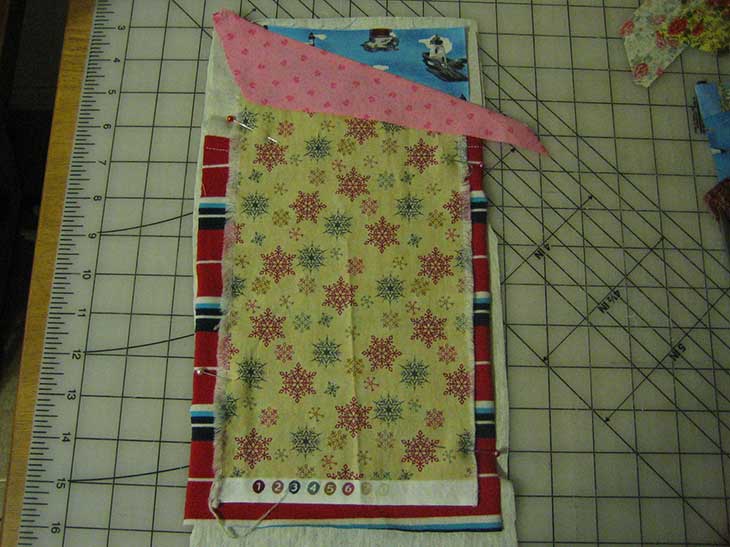 A piece of useless fabric (I was using cut-up worn-out clothing for most of the squares) cut to the desired size as a template, over two layers of knit cut a little larger (because you know the stuff's going to scoot) and string quilting goes over all the layers.
Then gets trimmed.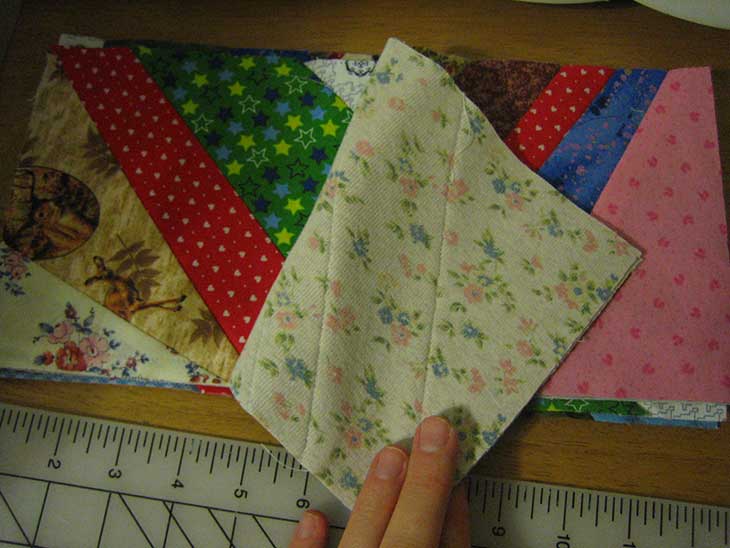 The quilting tames those sections of knit and holds them in place!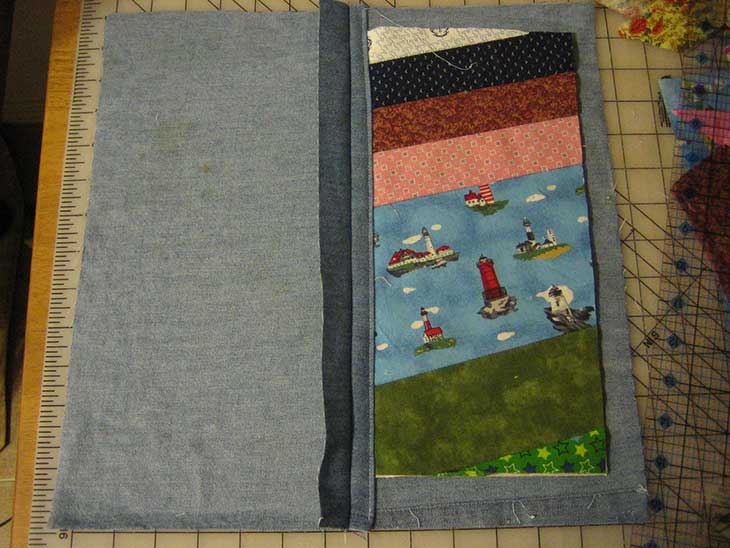 The denim backing cut an inch larger on all sides, sewn together an inch away from the edge, then overlapped just like binding over the squares.
Yes, I see the stain. That's cool, that way the kids won't be afraid to wrap up in this quilt on the floor. I'm NOT making masterpieces here, just blankies :-)
I used the pieces of string quilting I'd already made, with squares of knit underneath.The binding stitching is close enough together that I'm not going to bother with any closer quilting, and all the squares come out looking the same, you can't really tell which were quilted through all layers and which were only quilted on top :-)
They need to be lined up straighter than THAT. Srsly. But it still worked out just fine :-)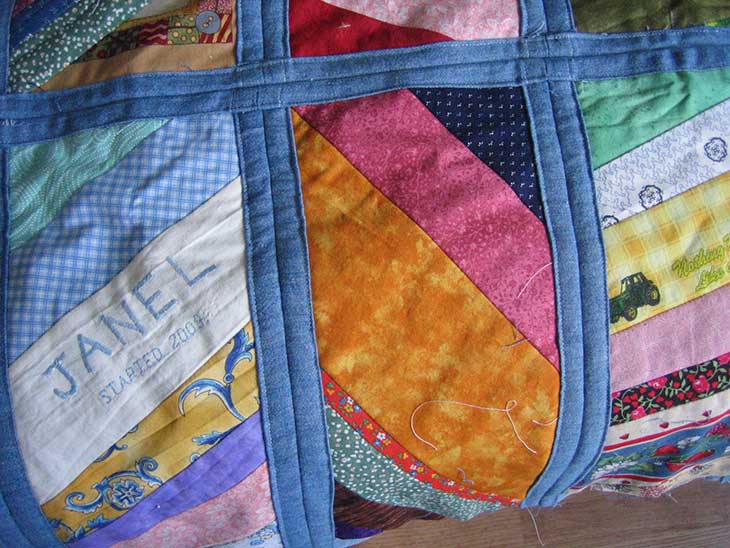 And I could have removed the threads before taking the picture. Sigh.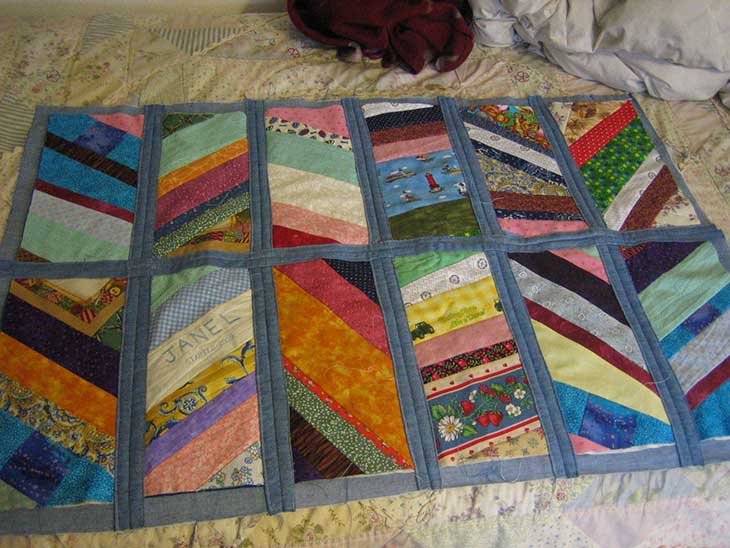 But yes, that IS what I wanted. It's gonna be larger, but I got enough done to call it a good idea :-)
With two layers knit, two fabric and one denim, it's wonderfully soft and thick and warm! Flannel sheets don't work all that well for batting but this totally does.
I ended up having to trim a tiny bit off of most of these to make them fit inside the backing.Next time I'm going to make the quilted pieces 7" square and the backing 9.25" squares.
Jan 3, 2009
Done! Yay! What fun!