Spiral Skirts
Note: click here for all the free spiral patterns!
The present page is the history of their development :-)
August 2009
I'd been wanting a spiral skirt for a long time. Spiral swirls are my thing. A few months ago I dug around the internet for pictures. The Redondo farbenmix skirt is so gorgeous! It's only for little girls though. I found a pattern that looks similar for "24 months to adult", but I cannot pay even $10 for that pattern. The spending's had to CEASE around here.
I found instructions on the internet of how to draft your own, notably this page at PatternReview, and this one at Craftster.

First attempt, drawn on graph paper, based on that first link's instructions. I used a cut piece of graph paper to estimate length, instead of using string.
Next step was going to be enlarging my pattern onto big sheets of brown paper. But for some reason my brain put 2 and 2 together. Spiral skirt + Adobe Illustrator = wait a sec, this might work!
I bought Illustrator a couple years ago before the end of the spending. Illustrator is SO COOL!!!!!!!!!!!1
I made some coordinates on my graph paper to help me get the pen lines right, but wait, that is the hard way... all I really had to do was scan the graph then open the scan in Illustrator and trace the lines with the pen tool. That takes only minutes.
The instructions say to use string to make sure both sides are the same length. I don't need to, Illustrator can tell me if the two line segments are the same length or not!
THEN Illustrator can print the pattern tiled onto multiple sheets. Here's how my skirt shape prints, on 16 sheets of 8.5 x 11 paper:
I thought I could number the edges or something to match them up, but it's not even necessary. It's a very easy jigsaw puzzle that can't be put together incorrectly. Anyway the lines have different stroke styles which makes it even easier to match them up.
This is SO FUN.  My delight level is right off the chart. Somebody mentioned going to Chuck E Cheese for a birthday party? That doesn't sound fun to me. This is fun.
I had decided on a 6" top for each skirt panel. Allowing 1/2 inch for the seams, that comes out 5" each panel. I want a pull-on elastic waist, so I basically use the hip measurement for the top width of the skirt. Hence:
7 panels x 5" = 35" top tier
8 panels x 5" = 40" top tier
Etc.
I had gotten as far as taping the pages together to make the pattern when I realized 1) this is going to waste huge amounts of fabric and 2) it's more of a gentle curve like the major brand commercial patterns out right now, which are close but not what I had in mind.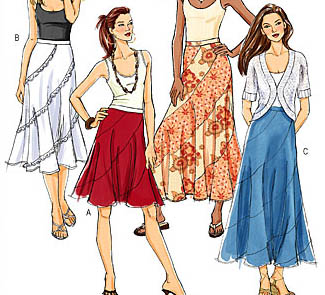 I might as well share that pattern piece I made in case someone else wants it. Maybe it's just what you had in mind... here it is and if you use it, I'd love to see a picture :-)
I took another look at the second link's way. The lady on craftster provided an image of her pattern piece, but I thought I'd try it more nicely Illustratorily rounded, so I took some circles and made this: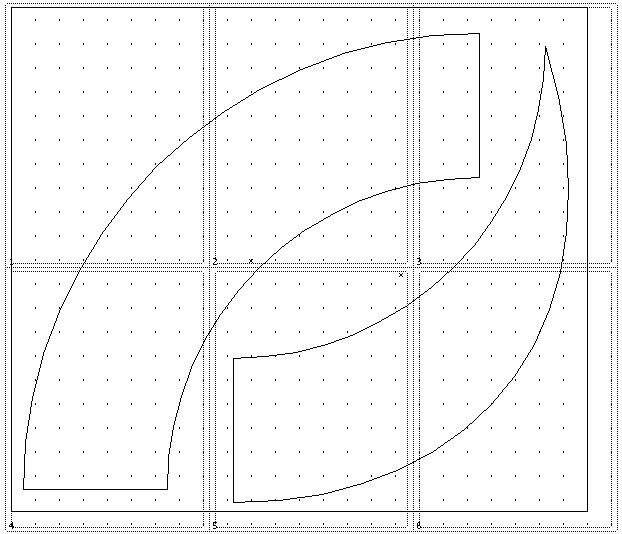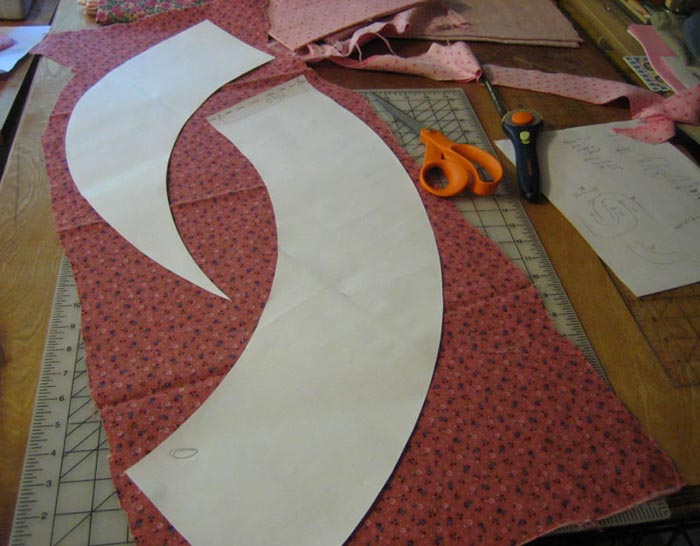 HERE is the printable pattern!
Got as far as a prototype on that one. This is for a girl size, the finished length is 25" long.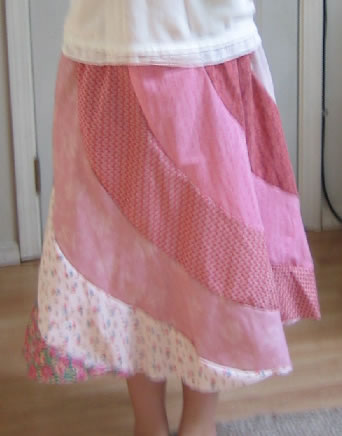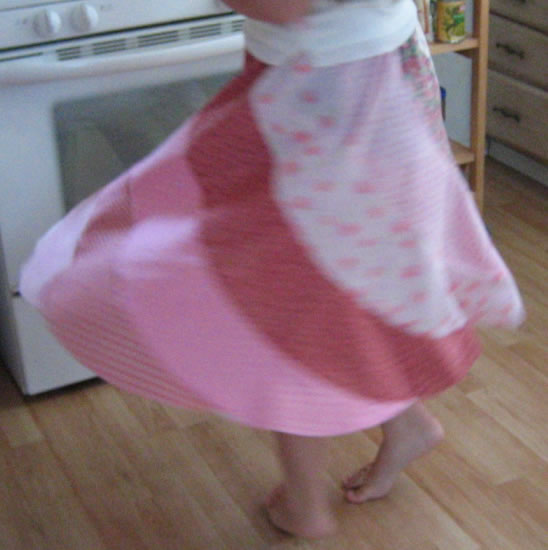 She loves it!
But meanwhile, onwards and upwards. I want MORE ruffles. This is really pretty but I was thinking over-the-top ruffliness a la Redondo.
We need a spiral that's closer to a circle. First attempt at freehanding a tight spiral:
I printed a Barbie size one to test out and it worked perfectly.
Pdf pattern for Barbie size is here. This didn't get beyond the basic shape, so no instructions or anything, you're on your own.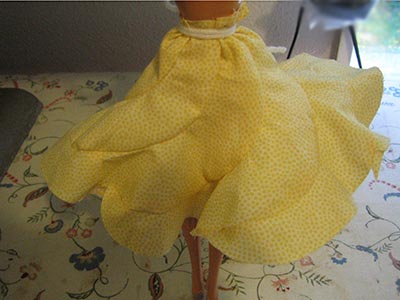 (Plus Photoshopped a little matching modesty)
That's EXACTLY the shape I wanted. Yay!
All ready to make adult version. Pdf pattern for adult size version here
Sept 9, 2009
Check out my new serger!! I didn't even know I wanted one, but it was a gift, so I said "Thank you".
What did I ever do without it???
It's the first time in my life to even see a serger running. My Mom didn't own one, so there was a certain fear factor about threading it. Twenty minutes of studying the book (do you know you have to thread these things with long tweezers??) and there we go.
Fear turns to glee.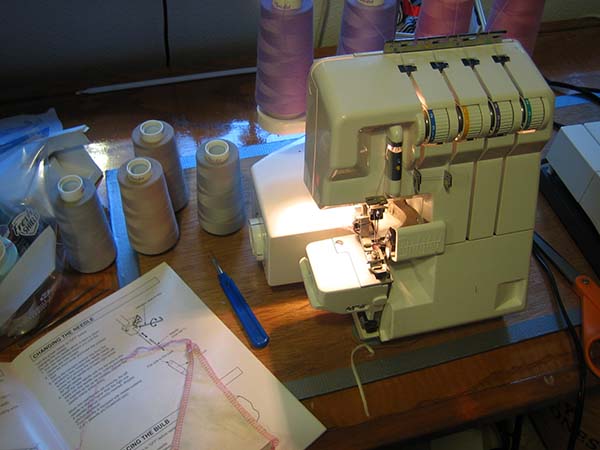 And the spiral skirt has a hem! It took FIVE minutes to serge around the edge and there we are. I am in love.
Meanwhile, had excellent new idea to ponder before falling asleep...
I made up a raglan top with six pieces, the bases of each piece to be 8" and join with the skirt pieces.
I started at the beginning with brown paper so it would be my OWN pattern :-)
Do you think it's an act of faith to make a dress with a commercial pattern? Much more so to cut nice fabric into shapes that an enthusiastic housewife carved out of a Fred Meyer bag.
The bodice is too long and the top of the sleeves are a little odd: fixable! I'll call this a success.
Just imagine the sleeves have cuffs to them, and maybe someday they will.
I bought black thread for the serger to finish that skirt off :-)

Oh and I did change the skirt pattern to a tighter basic circle like this: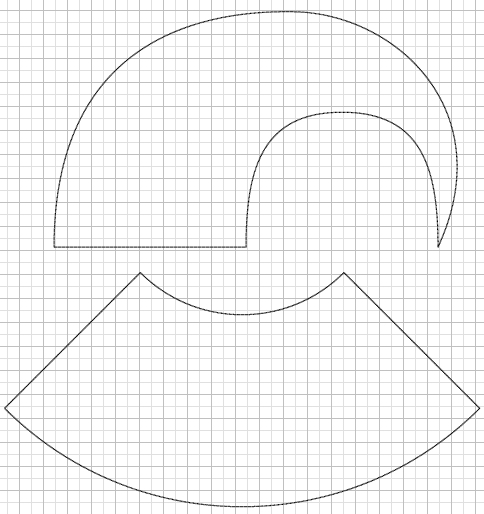 Having two round sections and one point makes a skirt just barely knee-length. Next time I'll use three round sections and see how that comes out. It'll start a little higher anyway as I've shortened the bodice.
Next step is to make one with better fabric, and two different fabrics. The challenge will be picking the right two coordinating fabrics.
How much do I need of each? Illustrator to the rescue!
All I have to do is make copies of the pieces and arrange them over boxes that are 44" wide.

So that's 110 inches of the main fabric (includes sleeves and neckband) and 78 inches of the contrast.
Bwa-ha-ha-ha!
Then:
I was doing just PERFECT on fabric, as you see. That was the last two skirt pieces that had to be cut. Then I decided the skirt should be longer. I had to patchwork the last two pieces from scraps! The second piece started to get absurd, as I ran out of fabric, and had to cobble nine different scraps together to make one section.
I only sewed the bodice pieces partway down. I'm going to be joining them with the skirt pieces and then sew all the way down to the hem, that way I'll avoid trying to line the seams up in the middle.
Once all the top pieces are joined, I gathered the neckline and attached the neckband. I handstitched the neckband facing.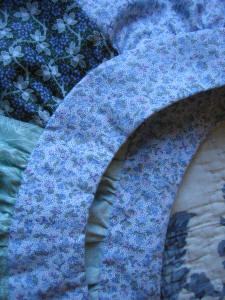 Neckband done (wow, what a difference a lighting change makes :-)
Joined skirt sections with top sections, then sewed them together down to the bottom. They're LONG!!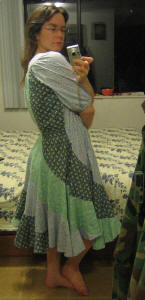 But once they're all together it's a normal length. Adding one extra section didn't add very much length. The spiral shape absorbs the extra and turns it into more width! The skirt overall is 27" long from top of the elastic waistband down, before hemming.
What to do about the uneven hem? I'm not sure. Do I like it that way or not? Easy to fix-- just run the serger in a straight line :-)
As a project that started with my imagination as I fell asleep, I'm tickled with how well it came out.
Here's all the patterns, organized